---
Seattle-Tacoma Interurban Electric
Railway.
In a very short time electric cars will be in operation over what experts claim will be one of the most interesting high-speed electric railroads in this country — that of the Seattle-Tacoma Interurban Electric Railway Company's line between Seattle and Tacoma. This line is being built between the two named cities, largely over private right-of-ways, by Boston capital, and when completed will be one of the finest equipped lines in the country.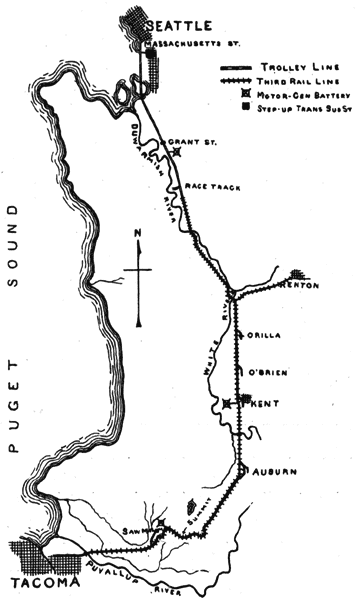 Fig. 1 Seattle-Tacoma Interurban Electric Railway.
Starting in the heart of Seattle, the line runs through Georgetown, following the Duwarmish River to Renton through Orillia, O'Brien, Kent, Auburn, through the valley of the Stuck River, thence east across the Puyaliup Indian Reservation to the heart of Tacoma. The route, with location of sub-station's, is indicated in the map, Fig. 1.
Very little hard work on the grade has been encountered, as a greater portion of the line is on water grade. The most difficult work was met at what is known as Hill section, from Auburn to Tacoma. Here a number of very heavy rock cuts and fills were necessary, as was also a rock tunnel, which pierces the ridge at that point. A view of this tunnel, which is 12 miles from Tacoma, is shown in Fig. 2. The track shown is, of course, only temporary. A grade cut between Sawmill and Summit is shown in Fig. 3.
The third-rail transmission system will be used, except within the city limits of Seattle and Tacoma, where, for greater safety, the overhead system will be adopted. The rolling stock will comprise heavy combination smoking and baggage cars, 32 feet six inches in length, and 41 feet six inches over all. Each car will be equipped with automatic couplers, sand boxes and walk-over seats, and will be mounted on Brill trucks. There will also be similar cars without baggage or smoking compartments, to be operated as motor and trail cars. All cars will be controlled by the multiple-unit system, each motor car having four General Electric No. 66 motors mounted on its trucks, giving a rated capacity per car of 500 horsepower. This equipment is guaranteed to give a maximum speed of 60 miles per hour, with a 30-ton motor car hauling a 20-ton trailer. The company will also have in operation four-motor General Electric freight equipment cars, capable of handling a trailing load of 275 tons behind a 35-ton locomotive at about 12 miles per hour. The passenger gear ratio is 1.55 and that of the freight 3.95. Two of the motors of each freight equipment are connected permanently in series.
Fig. 2 Seattle-Tacoma Interurban Electric Railway. — Rock Tunnel Near Tacoma.
Power will be furnished the new road from the new Post Street power station of the Seattle Electric Company in Seattle. Power will be transmitted over a No. 0000 B. & S. two-phase circuit at 2,200 volts for one mile to the step-up transformer station, which will contain four 500-kilowatt water-cooled transformers. These will raise the potential to about 27,500 volts, which will feed the high-tension line with 60-cycle, three-phase current over three No. 1 B. & S. copper wire as far as Race Track. At this point the line will be changed to three No. 4 B. & S. copper wires which will continue to the sub-station at Sawmill. Transformers at the first sub-station out of Seattle will be equipped with regulating dials, giving various secondary voltages with variations in the primary between 2,000 and 2,200. Each transformer is guaranteed to regulate within