---
Each Catenary Consists of Two 1/2-Inch Steel Cables Carried on Insulators on the Top of the Trusses. the Copper Trolley Wire is Suspended From the Cables and Held in Level and Alignment by Triangles Made of 3/8-Inch Pipe.
The Trolley Lines of the New York, New Haven & Hartford Railroad.
The Locomotive of 3,200 Maximum Horsepower, Weighs 95 Tons and Can Exert Twice the Horse-Power of the Express Steam Locomotives of the Road.
The First Trial Electric Train Starting From the Grand Central Station.
ELECTRIFICATION OF THE NEW YORK CENTRAL AND NEW HAVEN RAILROADS. [See page 72.]
OPENING OF ELECTRIC SERVICE OF THE NEW YORK
CENTRAL AND THE NEW HAVEN RAILROADS.
The people who expected to enter the Grand Central Station on some specified day of opening, and find the noisy and more or less dirty steam locomotives gone and their place taken by the silent and cleanly electric locomotives and motor cars, have been doubtless much disappointed to find that the installation of electric service at this famous terminal is not going to be made in any such swift and wholesale fashion. On the contrary, so gradual will be the change, that no one will be able to say exactly when the era of steam ended and that of electric traction began.
The explanation of the comparative slowness of the change is to be found in the enormous magnitude of the operations, constructive and administrative, which are involved; in the fact that the whole of the work has to be carried through in the midst of what is perhaps the greatest congestion of terminal traffic to be found in any steam railroad center in this country; and in the tact that much of the work of electrificatlon, at least in its application to these two great railroad systems, is more or less novel and has had to be built, and is now being tried out, without very much past experience to go upon. Consequently, although the new depressed station at 42d Street, which occupies the easterly portion of the terminal property, has been in service for about a month, the New York Central system is operating at present only about sixteen electrical trains a day on the local service to Yonkers. The New Haven system is about to open its electrical service by running only eight electrical trains daily between New Rochelle and 42d Street.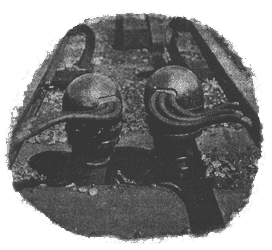 Third-Rail Jumper Connections Used at Cross-Overs.
We have so frequently described the character of the improvements being made by these two railroads, that we will do no more in the present article than recapitulate the leading features of the work. The changes involved include the electrifying of the New York terminal for a distance of 34 miles on the main line from the Grand Central Station, and for 24 miles on the Harlem Division as far as White Plains, and the New Haven line from Woodlawn to Stamford. At present, only the first electrical zone of the New York Central, extending from the Grand Central Station to High Bridge on the main line, and to Wakefleld on the Harlem Division, has been completed and put in operation, while the New Haven line will in a few days inaugurate its service from New Rochelle to New York. Temporary yards have been built at the two