---
HEMINGRAY PRESENTS A SORRY
SPECTACLE ON WITNESS STAND
---
Traducer of Name of Unfortunate Girl Suicide,
Charlotte Steffens, Tells at the Coroner's
Inquest of His Dealings With Her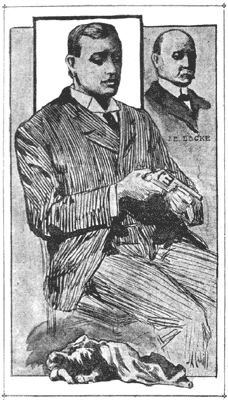 ROBERT HEMINGRAY, THE RACEHORSE MAN WHO WOULD NOT
UPHOLD THE NAME OF A DEAD WOMAN, AND A LEADING
WITNESS AT THE STEFFENS INQUEST.
BEFORE a crowd of morbidly curious people, Robert Hemingray, race track habitue, pale and seemingly on the verge of collapse, told yesterday the shameful story of his relations with Charlotte Steffens, known here as Carlotta Hemingray, who killed herself in the Hotel Knickerbocker last Saturday evening.
It was at the Coroner's inquest, which began at 10 o'clock in the forenoon, that the man who had been, ordered off the Ingleside race track for traducing the name of the girl who had passed as his wife was forced to lay bare his connection with the unfortunate one. He spent an hour of torture and nearly fainted on the witness stand. Hemingray had to tell why he informed the world that Charlotte Steffens was not his wife. Coroner Leland did not spare his feelings when he examined him.
Hemingray was the first witness. He was deathly pale and trembled as if he was suffering from palsy. He continually moistened his lips with his tongue and then appealed to the Coroner to let him have a glass of water. He made the following statement to the Coroner:
All I know regarding the death of Carlotta Steffens is that on Saturday night, November 29, as I returned from the track, Carlotta was standing in front of the mirror. As I walked into the room I talked to her. It was 6 o'clock. I happened to remember that my brother spoke to me about a remark Carlotta had made to his wife. I said to her, "You must not gossip, as a gossip is a mischiefmaker. You will make mischief and I don't want you to gossip again." After that our conversation ended. I then went, to my dinner. After dinner, my brother and myself went downtown to buy the latest magazines.
THREATENS SUICIDE.
The witness then went on to narrate how he returned and heard the pistol shot and begged his brother to enter the room. He said he could not do so, as he felt as If he would faint if his fears were confirmed. He said he appealed to Mr. Locke, husband of the proprietress, to go into the room, as my brother was averse to doing so.
"There Is one statement' I would like to make," said Hemingray. "So long as it was practical to do so, I said she was my wife. I even told my brother that we had been quietly married. I understand the press received a statement from her mother that I was not her daughter's husband."
The witness then went on to tell about his meeting with Carlotta and of their trip to this city. He told of the little "tiffs" he had with her and also informed her if she did not care for him she could return East at any time, as he would give her the necessary money.
"Was she in such a position that she could return with honor?" asked Coroner Leland.
"I really did not know much about her," replied Hemingray.
The witness stated that on their arrival in this city, Charlotte threatened to kill herself. He said Jockey McCue was in their room at the time and was under the influence of liquor. Miss Steffens ordered him out and Hemingray ordered her to be quiet, saying he would get McCue away. Charlotte then said petulantly, "Oh, you care more for your jockey than for me," and then made a grab for a satchel containing a loaded pistol. Hemingray said he frustrated this attempt by