---
Death of Mr. L. G. Tillotson.
---
We regret to announce the death of Luther G. Tillotson, on Jan. 31, from Bright's disease, at his residence, 19 East Forty-ninth street, this city.
Mr. Tillotson, the head of the well-known firm of L. G. Tillotson & Co., 5 and 7 Dey street, was bom at Ithaca, N. Y., March 1, 1834. He received there an ordinary English education, and was about fifteen years of age when his future was determined by the action of his father, Daniel T. Tillotson, in moving West to become secretary and superintendent of the Erie & Michigan Telegraph Company. Mr. James D. Reid, in his standard work, "The Telegraph in America, "says: "On Feb. 10, 1849, L. G. Tillotson commenced his life's work by copying his father's official letters." Having learned telegraphy on the lines of the Erie & Michigan Company — afterwards the Western Union Company — young Tillotson returned to the East and entered the telegraph service of the Erie Railway Company. His abilities and experience soon won recognition, and at the early age of nineteen he became superintendent of that department. He occupied, the position for several years with marked credit, adding to his duties on the road those of a division superintendent of the Western Union Telegraph Company.
Meantime the growth of the telegraph business created an immense demand for telegraph supplies, and Mr. Tillotson was quick to see the opportunities presented to him by his acquaintance with practical telegraphy, and his intimacy with many of the leading men in the craft. In 1862 he therefore began business in this city as a merchant in railway and telegraph supplies, under the firm name of Tillotson & Co. The business grew and prospered; and on Nov. 1, 1865, the present house of L. G. Tillotson was established, Mr. Tillotson's partners being Gen. E. S. Greeley and Mr. W. H. Holt. To this business the deceased gave his whole time and attention, caring little to go outside of it either in the pursuit of wealth or of public honors. He might at one time have become identified with telephone interests, but preferred to have nothing to do with them. He, however, became connected with the American District Telegraph Company as a director, and his name will be remembered as appearing frequently in print at the time of the sensation over the Cornell "blind pool" in that stock. Without going into the facts of the long controversy, it may be said here that Mr. Tillotson, who had been a life-long friend of Governor Cornell, made very serious charges against him, and resigned his position as director. It is not unlikely that this episode only strengthened Mr. Tillotson in the resolve to restrict himself to his immediate business interests, in the development of which his efforts were to the last attended with marked success. Starting with the intention of furnishing telegraphic supplies chiefly, he kept up with the later outgrowths of electrical application, and manufactured and dealt in almost everything required by the numerous electrical industries of to-day.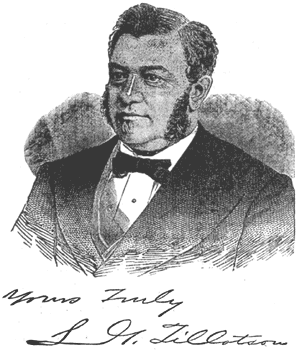 Mr. Tillotson took a warm interest in the movement started in 1870 to present to Professor Morse a testimonial that should fitly represent the esteem in which the Father of Telegraphy was held by operators and Americans generally. He was among the first to propose that the subscription should become national. Later, when the statue of Morse was unveiled in Central Park, on June 10, 1871, Mr. Tillotson chartered, at his own expense, the steamer "James Fisk, Jr.," and invited the delegates and their friends to participate in an excursion down the Hudson. About a thousand persons accepted the invitation, and Mr. Tillotson sought, regardless of expense, t