---
A New Type of Trolley Hanger
---
A new type of trolley hanger is being placed on the market by the Ohio Brass Company, Mansfield, O., known as "Type K," and of which we illustrate, a straight line hanger in elevation and cross section, an insulated bolt, which is interchangeable with the different forms of hangers, and a single curve hanger. The complete line of "Type K" hangers includes all the various styles necessary to support the trolley wire for the different suspensions in general use.

Figs. 1, 2 and 3. - Straight Line Hanger and Insulated Bolt.
The hanger is made of three parts, consisting of a body, cap and insulated bolt. The latter is a 5/8-inch drop forged steel bolt molded with a heavy covering of insulating material around it, and is thoroughly protected from moisture and accidental blows by the metal covering surrounding it. The cap, which screws on to tire hanger body, bears directly on a leather washer, which is interposed between it and the head of the insulated bolt, and thus holds it securely in position. The design of the cap and threaded lip of the hanger body, which is peculiar to this type of hanger, permits the screwing of the insulated bolt into the trolley wire support, without raising it from its normal position in the hanger body, which is necessary in other forms.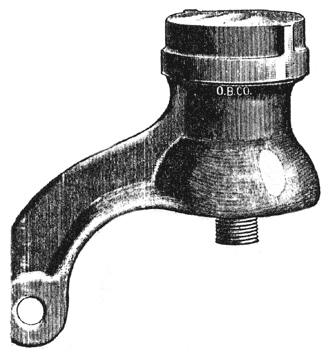 Fig. 4 - Single Curve Hanger.