---
Self-Insulating Fixture "Bug"
---
The most recent inspection regulations prohibit the use of the ordinary taped fusible cut-outs or fixture "bugs" usually placed in fixture canopies and connecting the fixture with the outlet wires. It has therefore been the practice to make either hard connections or cover the "bug" by some fireproof insulating shell, which is usually entirely separate from the cut-out proper, and is easily misplaced when re-fusing is necessary, and a condemned covering of tape substituted. The fusing of each separate outlet on a circuit has certain advantageous features if such protection as above mentioned could be absolutely assured.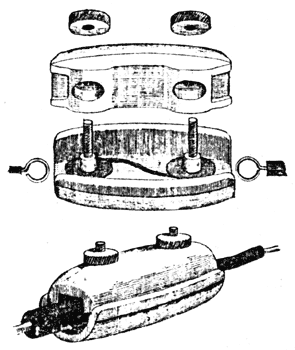 Insulating "Bug".
With this object in view the Reynolds "bug" was devised. With this device it is necessary to entirely cover all conducting parts of the fuse cut-out before the proper connection is made. The "bug" has practically no contact terminals, and consists simply of two porcelain parts. The fuse is provided with two internal projections or studs. A washer is placed over each stud, and the fuse wire is placed beneath the washers. The fixture and outlet terminals are looped around the studs over the washer, and the porcelain cover is then placed on top and held to the base by the small nuts which engage with the screw pins projecting throught the studs and cover. This brings the fuse and wire terminals into intimate contact, and at the same time entirely protects the fuse. The small size of this cut out and the fact that no tools are required to re-fuse it will be particularly appreciated where small fixture canopies are used.
Mr. S. K. Reynolds, 136 Liberty Street, New York City, has the agency for this device, and reports that it is being adopted by a number of fixture houses.