---
Manhattan Third-rail Insulator.
The Manhattan third-rail insulator used by the Manhattan Railway Company on its third-rail elevated-railway system in New York city, the order for which was for 160,000, is of exceptional interest. An important feature of this insulator is its strength. Dr. Charles F. McKenna of New York. recently made a crushing test of one of the insulators, fitted, on the iron stool which is provided for it. The whole was subjected to crushing stress, and the insulator supported a load of 19,500 pounds, or 9 3/4 tons, before breaking. Hugh Hazelton, engineer of the Manhattan Railway Company, is said to be well pleased with the success of the insulator. The Westinghouse people have adopted this design for the Mersey railroad of England, and Blackwell & Co. of Paris, electrical engineers and contractors, have secured the agency for the insulator in that city. The Standard Vitrified Conduit Company, 39-41 Cortlandt Street, New York, is the manufacturer of this insulator. The accompanying illustration shows the device set up. The insulators can be had separately or complete with stools, as desired.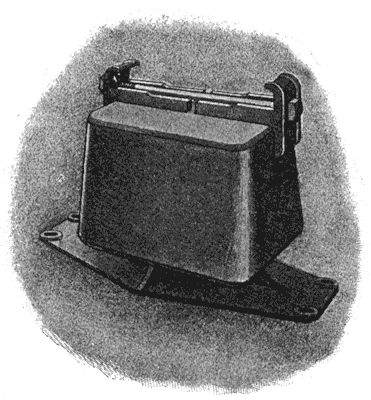 Manhattan Third-Rail Insulator.