---
Blake Compressed Cleats for Wiring.
The cuts show examples of the compressed cleats made by the Blake Signal and Manufacturing Company of Boston. These cleats are designed for use with low-voltage wiring, such as that for telephones, telegraphs, annunciators, bells, etc., where such circuits are run over plastering or in other places where staples cannot be used. They are treated to be impervious to dampness, and it is pointed out that there is no breakage under the blows of a hammer or otherwise. Wire nails can be used as well as screws, and these cleats cost much less than porcelain. When stringing long runs of wire, the end cleats will hold the slack until the wire is secured at intermediate points. Large quantities of these cleats are sold to telephone and telegraph companies, bell-hanger, automobile and motor-boat builders and the like.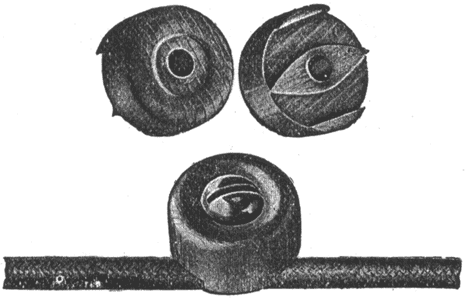 Blake Compressed Cleats.