---
New Line Construction Specialties.
Herewith are illustrated three new line devices made, respectively, of cast iron, malleable iron and glass. The cast break-arm, which has the usual 12-inch spread, shows how a neat form can be made without sacrificing strength. The Ajax cleat is also neat in design, the metal being so well distributed as to give a nine-inch length, or an inch more than usual. Besides, it is novel in having a rounded back, so as not to rock on the pole. The glass tree insulator, said to be the only one-piece tree insulator on the market, has the glass annealed to toughen it, and is easily slipped over wires already in place. The eccentric location of the slot keeps the wire from snapping out accidentally, and the insulator is easily lashed to the limb or trunk of a tree. This insulator is the invention of Scott C. Cutter. For electric-light work it is offered in a size taking wires up to one-half inch outside diameter.
These devices as well as other insulators and fixtures are made by the Ajax Line Material Company of Chicago.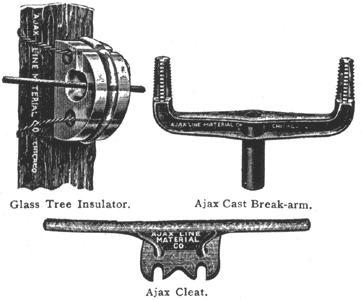 New Line-Construction Specialties.