---
Ajax Mast Arms.
With the rapidly increasing cost of poles, and the growing sentiment against wires crossing the streets, the use of center-suspension lamps is decreasing. Similarly, the need of neat, firm and low-priced fixtures for supporting the lamps at some distance from the poles is steadily increasing.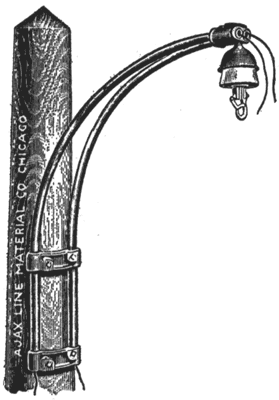 Fig. 1. Ajax Front Fixture.
The range of conditions to be met in modern practice is well shown in a series of fixtures made by the Ajax Line Material Company of Chicago. These range from the Ajax front fixture (Fig. 1) with its two-foot reach, to the Ajax medium mast arm (Fig. 2), built in lengths of 8 to 14 feet. The latter is also made with additional bracing for lengths up to 20 feet. The Ajax midget mast arm answers for the 4 and 6 foot lengths. Both of the last-named types are fitted with safety pulleys, while the front fixture is usually equipped with the high-voltage type of the Ajax arc-lamp insulators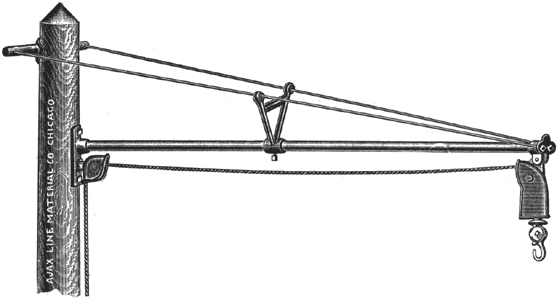 Fig. 2. Ajax Medium Mast-Arm.