---
ILLUSTRATED ELECTRICAL PATENT RECORD.
Issued (United States Patent Office) October 23, 1906.
·
·
834,084. High-potential Insulator. Louis Steinberger, New York, Application filed March 24, 1905.
The supporting pin is provided with an enlarged portion and with an annular bead projecting from this portion. A gasket of soft rubber engages the annular bead, and a hood is provided which has means whereby it may be secured to the enlarged portion and with a portion integral therewith for engaging the gasket. (See cut.)
·
·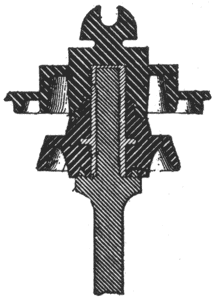 No. 834,084. — High-Potential Insulator.
·
·