---
LARGE 60,000-VOLT INSULATOR
An interesting shipment of insulators for high-potential power-transmission work has just been made by the New Lexington (Ohio) High-voltage Porcelain Company. It consists of the first carload of an order of 5,000 60,000-volt insulators for the Seattle-Tacoma Power Company of Seattle, Wash., sold through the E. N. Fobes Supply Company of Seattle, northwestern sales agent for the New Lexington company.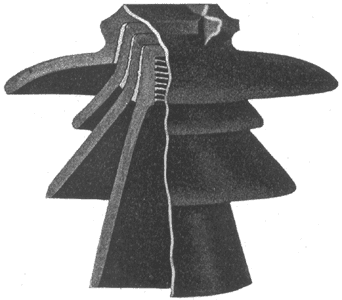 Large 60,000-Volt Insulator.
The accompanying illustration shows the type of insulator used. It is 14 inches in diameter and 12 1/2 inches high and weighs 25 pounds net. This design is considered to be one of the best for 60,000-volt lines.