---
Bracket for Heavy Wire.
The Peirce Specialty Company of Chicago and Elkhart, Ind., has recently placed on the market a specially designed one-point bracket for heavy power wires. This bracket is supported to brick, stone or concrete walls by the well-known Peirce expansion bolt. It is equipped with a spiral spring steel thread, which has become popular with electric-light companies because of the elimination of breakage due to the expansion and contraction of the supporting member.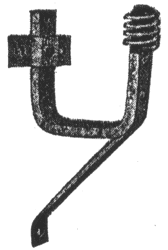 Bracket for Heavy Wire.