---
VITRIFIED CONDUITS AND INSULATORS
---
The Standard Vitrified Conduit Company, of New York, has completed its factories at South River, N. J. These are said to be the largest of their kind in the world, and to produce more conduit than any six of the other conduit factories in the United States. This company manufactures conduits and third-rail insulators exclusively, and as it has unlimited quantities of pure stoneware clay on its premises, this advantage, combined with its experience in the art of clay working, should make the quality of its manufactures equal to, if not better, than any other conduit on the market.
The works are now in full operation, producing 100,000 ft. of conduit a day, and also manufacturing the Manhattan third-rail insulator. The company recently made over 43,000 insulators for the Scioto Valley Traction Company, in Ohio, and has done a large business with other street railway companies, especially in Pennsylvania, which have third rail systems. The Manhattan Railway Company, of New York, after a series of exhaustive tests, adopted the insulator, which is shown in the accompanying cut. Most of the other third-rail systems which are using this type of insulator have adopted practically the same pattern.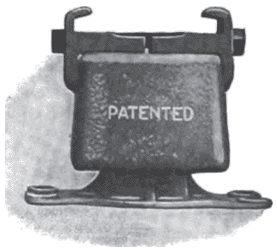 Manhattan Third-Rail Insulator
At the Convention at Saratoga. Sept. 4, 5 and 6, this company will be represented by B. S. Barnard, vice-president and secretary, with a thorough exhibit of its product.