---
Trade Notes and Novelties
AND MECHANICAL DEPARTMENT.
---
·
·
SOME NEW HAMMOND SPECIALTIES.
The Hammond Cleat & Insulator Co., of 15 Custom House street, Boston, have recently brought out several interesting specialties in porcelain insulators, rosettes, etc., some of the more noticeable of which are shown in the accompanying illustrations.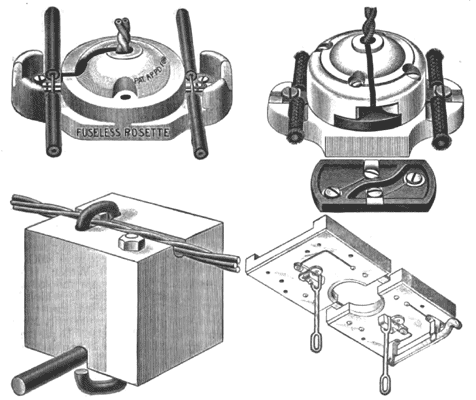 Figs. 1, 2, 3, and 4. — Hammond Rosettes, Insulator and Hanger Board.
Fig. 1. shows the fuseless rosette made in one piece with a solid back, and therefore perfectly fire and waterproof. The cord is easily attached and there are only two screws in the entire device. The double pole fused rosette, Fig. 2, has its cover and base in one piece and hence affords no chance for a loose contact, while, like the fuseless rosette, it is water and fireproof. It can be used for moulded or cleated work. The fuses, as will be seen, are attached to an interchangeable slide, independent of other connections. These slides may be kept, ready fused, for emergencies.
Fig. 3 shows the trolley guard insulator made of one piece of porcelain japanned black. It is so constructed that the slipping of the guard wire or span wire is impossible. It is easily attached and has no parts to loosen or drop, and can also be used as a strain insulator.
The adjustable arc light hanger board. Fig. 4, is said to be the only one which conforms to the rules of the Insurance Exchange. Being constructed entirely of porcelain and metal, it is moisture and fireproof, with all electrical parts in plain sight, and no concealed wires anywhere. This hanger board can be used on high or low potential circuits. For the former it is provided with a jack knife switch. It is furnished in two sizes, the distance between lamp contact terminals being adjustable from 5 to 8 inches, and from 9 to 12 inches, respectively.