---
ANDERSON SWITCH AND INSULATOR SPECIALTIES.
WE illustrate herewith the service switch and AEtna outlet insulators made by the Albert & J. M. Anderson Manufacturing Company, of 289 A street, Boston. The three-pole quick-break switch, Fig. 1, is provided with fuse terminals and screens, as shown, and is designed for use as a cut-out where the wires of the lighting company enter the building.
When closed, as shown in Fig. 2, the entire switch with fuses is covered by an insulating cover of AEtna material. If the lighting company desires to discontinue the supply of current to a customer, provision is made so that after removing the fuses the closed switch may be sealed up with the company's seal, and current cannot be taken except by breaking the seal. Careful attention has been given to good matetial, workmanship, and contact. The action of the switch is positive, the construction simple, and the insulation, being of "AEtna," is of assured efficiency.
The Anderson outlet insulators are used at the free ends of iron interior conduit to protect the wires from contact with the end of the pipe and from chafing. They also add a neat finish to the end of the pipe.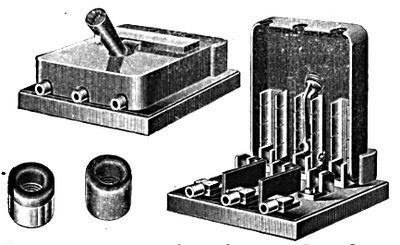 Figs, 1, 2 and 3. — Anderson Service Switch and Outlet Insulators.
With regard to their AEtna and Hecla insulation the firm say: "During our eight years' experience in the manufacture of AEtna insulators we have furnished nearly all the larger and very many of the small electric railways with AEtna insulators. This long test has proved them uniformly reliable and durable in a remarkable degree. For high insulation, great strength aud weather-proof qualities they have an international reputation.
"Absolutely no expense has been spared that could improve their quality. Equipped with this successful experience in manufacturing railway insulators and a full complement of special machinery, dies, tools, etc., for pressing up the compound, we have for a long time past experimented with a view to producing an insulating material made up of less costly ingredients than used in the AEtna, but by a similar process and with equal care. The result of this experimenting is the Hecla insulating compound, which, after the most exhaustive tests for insulation and strength, we are now prepared to place upon the market at very reasonable prices and to guarantee. It is less expensive than many other compounds, and thoroughly reliable. The Hecla brand of railway insulation, made up with some of the same forms as used with the AEtna, and some new forms, is bound to give a degree of satisfactory service unattainable with other and less carefully made material. A trial is solicited."