---
A New Departure in Cross Arms and Pins.
Metal cross arms in connection with metal pins have just been placed on the market by the St. Louis Malleable Casting Co., St. Louis. The arm and pins are intended for both high and low tension and telephone and telegraph purposes, special types being manufactured for the various uses.
The arm is made of four inch steel channel weighing five and one-fourth pounds to the foot. The arms for telephone and telegraph purposes are arranged for twelve pins; six pins are placed below the arm and six above and are in a staggered relation to one another as shown in the illustration. A spacing of twelve inches between the pins is maintained and yet the length of the arm is only 77 inches, with a 16 inch spacing between the pins at the pole. For transposition purposes, the lower pin is bent in a reversed direction from that shown in the illustration, so as to place it directly beneath the upper pin.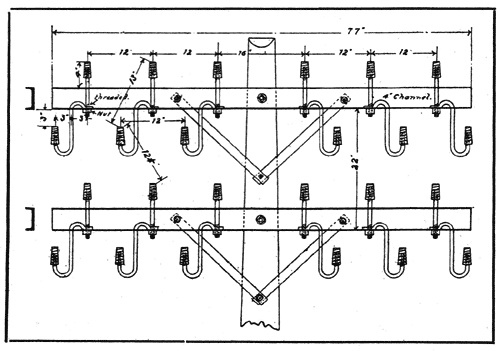 Steel Telephone Arm Equipped With Metal Pins.
The arms are furnished either painted with a graphite of a very high grade, or galvanized, either by the hot or electro processes. The weight of the 77-inch steel arm is less than 34 pounds and equipped with 12 pins is 42 pounds.
The company has prepared some interesting data showing constructing metal cross arms and pins which would be the superior of anything now used for the purpose. He believes that he has successfully solved the problem and will be pleased to receive inquiries in regard to the matter. All the metal pins and cross arms which the company manufacture are covered by patents.