---
New Hendee Flexible Clip for Insulator Pins and Brackets.
Line troubles are expensive and, as far as the consumer is concerned, are just as bad as power-house shutdowns. To reduce line troubles to a minimum, the selection and installation of the brackets, insulators, etc., is a factor. One of the troubles frequently encountered is caused by the breaking of insulators, due to the expansion of insulator pins and brackets. Solid heads cause breakage in warm weather, while in cold weather they contract and allow the insulator to wobble. Wooden pins give fair satisfaction, but they do not last.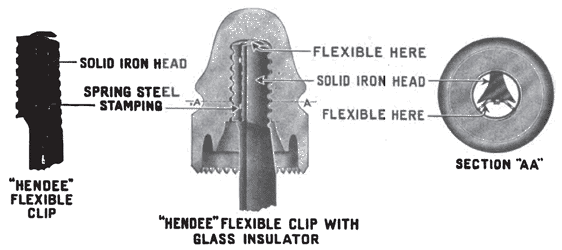 Hendee Flexible Clip.
The Line Material Company, of South Milwaukee. Wis., is furnishing all styles of Kyle Line brackets with the patented Hendee flexible clip. This not only provides protection against expansion, contraction and irregularities in the insulator grooves, but has the distinct feature of having a full section of the malleable-iron bracket enter the insulator, and a part section of this is used as a thread for the insulator. The Hendee clip adjusts itself, both in diameter and length, as it not only expands and contracts with the insulator, but creeps up into the insulator.
The malleable iron used in making these brackets is claimed to outlast steel, and this with the ability for absorbing sudden strains or jerks.