---
TRADE NOTES AND NOVELTIES
AND MECHANICAL DEPARTMENT.
---
"Conventions come and conventions go, but an
'ad.' talks on forever."
---
A NEW TROLLEY WIRE HANGER.
We show in the accompanying engraving a purely mechanical device for hanging trolley lines, designed to facilitate overhead construction, and to make it possible to adjust the hanger easily to any stretching or contraction of the trolley wire. By the use of this hanger one man can shift several miles of hangers in ten hours. As will be seen in the cut, the device, though it can be so readily applied and removed, offers a firm support to the wire, as by tightening the bolt at the top, the grip of the tongs can be made very great. The clamp screws into plates imbedded in vulcanized rubber, which forms the insulating medium, and which is protected by a metallic shell. The hanger is attached to the span wire in the manner now in common use, which has proven so satisfactory. It is one of the new articles brought out by the Electrical Supply Co., of Chicago.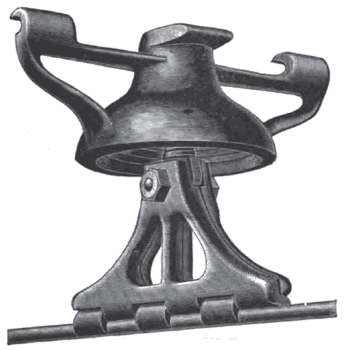 "Hercules" Hanger for Trolley Wires.
·
·