---
TRADE NOTES AND NOVELTIES
AND MECHANICAL DEPARTMENT.
---
Advertising is always interpreted as a sign of
life, activity and progress. Dead men don't advertise.
---
·
·
THE PETTINGELL ANDREWS FEEDER WIRE HOLDER.
WE illustrate this week a novelty in the shape of a new form of feeder wire holder, specially designed to tie large feeder wires to the insulator, as shown, without the necessity of the old tie wire, which takes time and labor, and is extremely apt to damage the insulation. This holder is much cheaper than tie wires, holds the cable or wire in a firm and secure grip, saves labor, time and money, and absolutely prevents any abrasion of the insulation, thereby preventing loss of current. It is manufactured exclusively by the Pettingell Andrews Company, of 196 Summer street, Boston.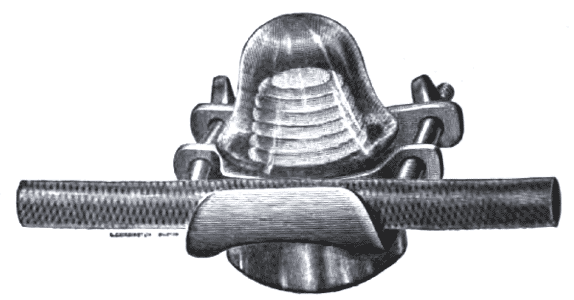 The Pettingell Andrews Feeder Wire Holder.
·
·