---
THE "UNIVERSAL" TROLLEY WIRE CLIP.
AMONG the electric railway specialties manufactured by the Lieb Machine Works, of this city, which have met with considerable favor, is the Universal trolley wire clip, illustrated in the accompanying engravings. It will be noted that the construction is such that the clip can take in any size of trolley wire and grips it firmly. In order to provide for expansion and contraction of the line, the clips are suspended by a link imbedded in a fireproof asbestos insulating material moulded around it. The construction is such that should the insulation break or be destroyed in any manner the line still remains suspended.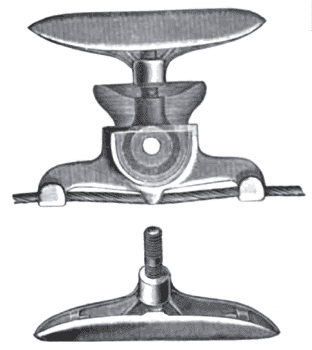 The "Universal" Trolley Wire Clip.