---
First-Class Cheap Rosette Cut-Out.
---
The demand for a first-class rosette, cheap in price and easy of application, has led the Peru Electric Manufacturing Company, Peru, Ind., to produce the article illustrated herewith.
As will be seen, this rosette is of the simplest design, and the fact that it has few parts is one of its most valuable features. It is made of the best porcelain, such as the Peru Company use in the manufacture of its electrical specialties, the terminals being of solid, heavy brass. There is only one screw to tighten in order to hold the top, and the contact points are solid and secure.
This rosette can be used equally well for cleat or concealed wiring, the change being accomplished by simply changing the lugs, end for end.
On account of the simplicity of this article, its availability and its low price, it should meet with much favor in the trade.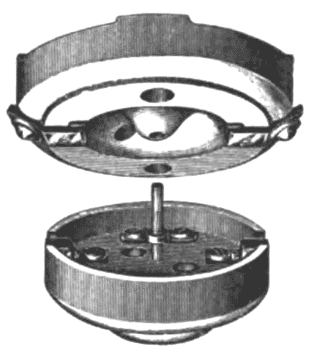 Rosette Cut-Out.