---
Catenary Bridges for Electric Railways.
---
The accompanying illustrations show styles of catenary bridge construction used by the Syracuse, Lake Shore & Northern and the Rochester, Syracuse & Eastern railroads. The bents of the bridge are 28 ft. center to center.
Fig. 1. — Bridge for Double-Track Road.
The bridges, which are placed 300 ft. apart, support a No. 4.0 grooved copper trolley wire by means of hangers suspended from the catenary messenger wire at 30-ft. intervals. On the construction on the Syracuse, Lake Shore & Northern Railroad 7/16-in. strand steel messenger wire was employed, mounted on porcelain-pin insulators attached to steel pins on the top member of the bridge. On the construction on the Rochester, Syracuse & Eastern Railroad it is proposed to use the two 500,000-circ. mil copper feeders as messengers, and thus eliminate the cost of the steel messengers. The copper messenger is to be carried on a porcelain saddle (Fig. 3) recently designed by Mr. Thomas H. Mather, chief engineer, and Mr. R. A. Dyer, Jr., electrical engineer of the railroad company. These saddles, which are to be furnished by the Ohio Brass Company, are to be lagged to a timber, which will be protected from decay by preservative compound, and are to be mounted on the tops of the catenary bridges. This timber provides additional insulation and is a safety precaution against grounding in case the insulator should break.
Fig. 2. — Bridge Used With Three-Phase Transmission Lines.
These bridges were designed to be comparable in price with the ordinary wooden-pole construction. It is said that the total cost of construction per mile of double track on the Syracuse, Lake Shore & Northern Railroad was $4,100, as compared with $3,325 for an equivalent wooden-pole construction. The elimination of the steel messenger will result in a saving of $400 per mile. These bridges were built by the Archbold-Brady Company, Syracuse, N. Y.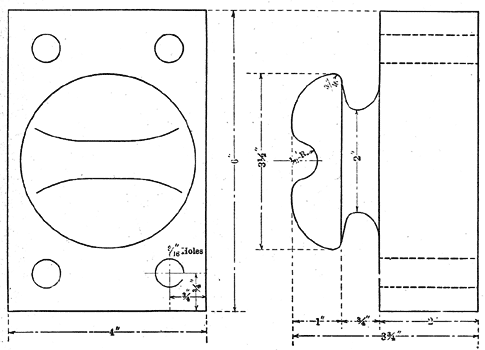 Fig. 3. — Porcelain Insulating Cable.