---
An Efficient Insulator.
The Hemingray Glass company of Covington, Ky., has placed upon the market an insulator, a cut of which is presented herewith, and which possesses many points for consideration. It is made of glass, and is provided with a series of teeth at the lower edge of the insulator shield to attract and gather at their points drops of water running down the outer surface. The advantages of such a construction are evident, and the company is making preparations to push the sale of this specialty in all portions of the country. The device is fully protected by patents.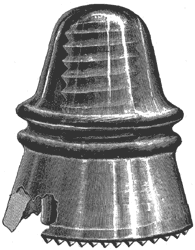 An Efficient Insulator.