---
Toggle-Clamp Feed Wire Insulator.
---
The present methods for fastening the feed cables to their insulators consist principally of wire bindings, screw-caps or grooves with metallic fingers, which may be hammered over on the wire. Each of these methods has its disadvantages and requires time for a proper fastening of the wire, besides involving an additional expense and some injury to the insulating covering, when for such reasons, as in moving the cable or in taking up of slack it becomes necessary to detach the wire from the insulators. Any improvement which will facilitate the attachment of cables and do away with loose parts will constitute an immediate advance toward greater economy in construction by increasing the efficiency of the lineman and adding to the life of the insulating covering of the cables.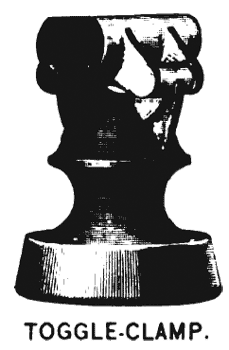 Toggle-Clamp.
The automatic fastening furnished by the "H. W. J." toggle-clamp feed wire insulator introduces the improvements desired. As its name indicates, the principle of the fastening is based upon the multiplying action of toggle levers. The jaws are 3 ins. long and are hinged at the sides; upon the insertion of the cable they tend to come closer together under the weight of the wire; and the greater the downward pressure the greater will be the clamping action. The utility of the principle as applied to a feed wire fastening is apparent. The jaws are readily spread by an upward movement requiring little effort on the part of the lineman, whose labor consists entirely in raising the wire and dropping it into the jaws. The attachment is instantaneous and the clasp upon the wire so powerful as to prevent the possibility of slipping. Notwithstanding the powerful clamping action of the jaws, the wire may be readily detached from the insulator by an upward lift, which causes the jaws to spread and loosen their grip.
The "H. W. J." toggle-clamp insulator is placed upon the market by the H. W. Johns Manufacturing Company in the belief that its simplicity, effectiveness and labor saving and economical features will prove of interest to all electric railroads and engineers.