---
A New Insulator Pin.
The Locke Insulator Manufacturing Company, Victor, N. Y., has recently placed upon the market a new pin which, for iron wood pole construction, is considered an advance over the ordinary malleable iron truss.
As shown, the pin as a whole consists of an iron base and central steel bolt, the top of the bolt being webbed to facilitate the cementing on of the insulator, the bottom being threaded to allow firm attachment to the cross-arm. That portion of the bolt immediately under the web, the lower ends of which are machined so as to form a perfect seat upon the base, is threaded to fit a similar thread in the base, thus intimately uniting the two parts of the pin.

New Iron Pin.
Upon any other type of pin the manner of application of forces depends upon the direction of the forces acting on the insulator. However, in this method of construction, all forces, no matter how applied to the insulator, are always resolved into tensional and compressional upon the same parts; that is, the central steel bolt is always under tension, while the supporting iron base is always in compression. At the very top of the bolt, where the stiffness of the bolt must be depended upon, maximum strength is secured by webbing and firmly securing the webbed portion upon the base by means of the thread.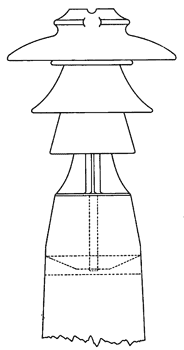 Outline of Insulator and New Pin.
Attachment is made to the cross-arm in the ordinary way, and under no condition can the pin become loosened without being visible to the inspector from below.
A modification of this type of pin presents a novel solution of the pole-top pin proposition for, as will be seen by reference to the illustration, the addition of a special nut allows of its ready application to the pole-top with none but the simplest tools.
This type of pin is the result of considerable work along the line of pin construction, and when the uncertainties of malleable iron are taken into consideration its advantages, the maker believes, become apparent.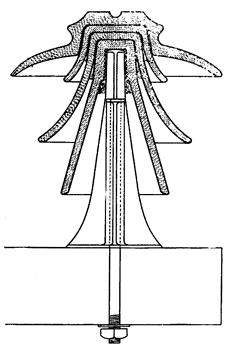 Section of Insulator and New Pin.