---
THE MANCHESTER ELECTRICAL EXHIBITION. - V.
---
·
·
MESSRS. ROBERT W. BLACKWELL, AND CO., LI MITED, Parliament-chambers, 14, Great Smith-street, London, S.W.—There was on this stand an interesting exhibit of transmission line material. Particularly notable was the full-size transmission line "A " pole, which represented a form of construction used by Messrs. Blackwell in carrying out work for some of the largest power transmission lines in this country. An interesting display was made of accessories for this kind of work, such as Lima porcelain insulators suitable for all voltages up to 80,000 volts, and all classes of galvanised wrought-iron work was fixed to the walls of the stand, a comprehensive view of which is obtained in Fig. 1. The Lima insulators are of especial interest, being constructed of tough vitreous porcelain, their efficiency being thus assured, while we understand that they are the cheapest on the market. They are made in various shapes and sizes, and for a very wide range of voltage.
Fig. 1—View of Messrs. R. W. Blackwell and Co.'s Stand.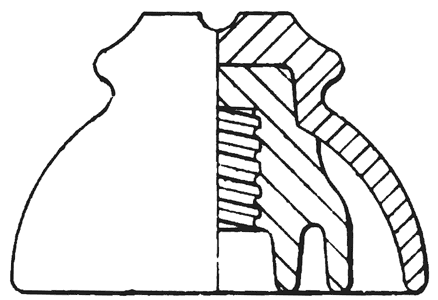 Fig. 2—Blackwell's No. 20 Lima Insulator.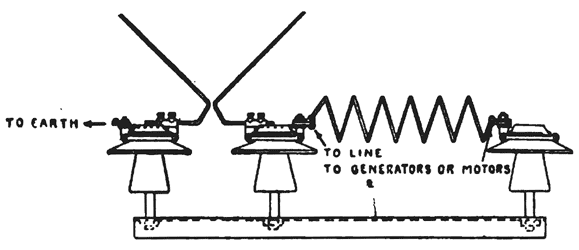 Fig. 3—Arrester With Choking Coil.
A large selection of non-arcing type lightning arresters and choking coils were also exhibited, including a type which was recently adopted on an important transmission line in South Wales. Fig. 3 shows a horn-type arrester with choking coil, and Fig. 4 a panel with the arrester and choking coil fitted in an iron box. This apparatus is suitable for high and low tension transmission lines, switchboards, etc. A new specialty was shown in the way of fibre conduit for underground mains, telephones, etc. This is entirely different from any other on the market, having a thicker wall than usual and a longer joint. It is built up in alternate layers of fibre and asphalt, and when laid in concrete provides a cheap and efficient form of conduit. The chief qualities of this conduit are strength of wall, length of joint, and absolute absence of condensation. It is claimed to have a higher puncture resistance than stoneware ducts, and recent puncture tests have shown that this fibre conduit is capable of withstanding 60,000 volts. On this stand was also shown a now portable electrically-driven household vacuum cleaner, known as the "Kurkee," driven by a 1/16 h.p. motor. A three-pole circuit breaker, with loose handle and push-button release, which was exhibited was a new type of circuit breaker containing many useful features. There was also on view a good supply of tramway line material, insulating paints and papers, cable boxes, compounds, bitumen compounds, and asphalt roofings. The office on this stand was covered with Genasco roofing, a material of pure wool felt and Trinidad Lake asphalt. This material is very uniform in texture and can be universally applied. It does not crack in cold weather nor dry in warm. On this stand was also shown a good line of Litholite insulation, for which Messrs. Blackwell and Co., Limited, are the agents. This insulation is used for hangers and bolts, cap and cone and globe suspensions, etc. Litholite differs from other insulation (among other things), inasmuch as the internal metal parts are electrolytically coated instead of being glavanised before having the insulation moulded on and being assembled. This process ensures every part, including the thread of the bolt, being impervious to oxidation, thus absolutely obviating any tendency of moisture to creep in and rust and so burst the insulation. The insulation itself is particularly well adapted for electrical work, being of high dielectric and mechanical strength, unaffected by acids or alkalis, and heat resisting. It is very largely used by H. M. War Office, Admiralty, the London County Council, Underground Electric Railways, etc.
·
·