---
The "Provo" Type High Potential Insulator
The Hemingray Glass Company of Covington, Ky., is placing on the market the "Provo" type insulator for high potential work. This is the insulator which has given such excellent results on the 40,000 volt line of the Telluride Power Transmission Company in Utah. The insulator was perfected nearly a year and a half ago, and is the outcome of several years of experiment with existing types and many new forms. It is only now that a description appears in print, as it has been the desire of the makers to fully establish its worth. It is all glass, which is the cheapest insulating material, and is boldly claimed to be the only one that is absolutely reliable when exposed to the weather and the action of high potential currents.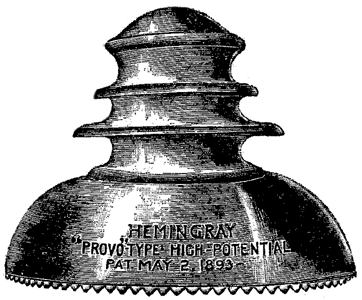 The "Provo" Type High Potential Insulator.
It is 5-3/4 inches high and 7 inches in diameter and has five petticoats. Two of these petticoats are near the line wire and serve to break the continuity of the exposed surface between the wire and the pin or the cross arm, which tends to prevent jumping of the current between these points. Another advantage of these petticoats near the line wire is that they protect surfaces of small area and high resistance, which check surface leakage at its source. It is noticed in actual practice that these surfaces remain free from moisture and snow. The other petticoats on the bottom extend the surface distance from the line wire to the pin to 16 inches. Teats along the bottom of the outer petticoat aid in shedding water.
The line wire is tied around the insulator in the topmost groove, which holds it well above the cross arm. This method of tying has been adopted, as it is considered the best for use in a country where the strain on an insulator may be either up or down or sidewise.
The thickness of glass is well proportioned and the insulator is extra strong in resisting mechanical breakage or electrical punctures. Tests have been made between the points for the wire and the pin with voltages as high as 125,000 without puncturing the material. The thread is of standard size and 2-1/2 inches long. The strain of the wire comes squarely on the pin. The glass is almost colorless and the insulator is not conspicuous on a pole line. The name of Hemingray is a sufficient guarantee for good work in the glass insulator line. They have increased facilities for manufacturing this insulator and are prepared to fill orders on short notice.