---
High-Voltage Insulator.
---
Fred M. Locke, of Victor, N. Y., has recently brought out a modified type of high-voltage insulator, illustrated herewith. This insulator is somewhat similar to that shown in a recent issue, but is slightly higher, and is provided with three petticoats, as shown in the engraving. It is 14 inches across the hood. This insulator has been tested up to 160,000 volts, and is made for any voltage up to 100,000 volts line pressure.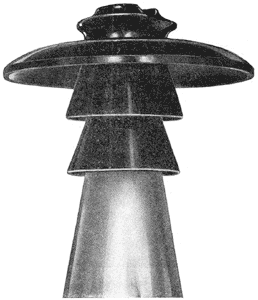 High-Voltage Insulator.