---
New Telephone Patents.
---
A few weeks since mention was made in these columns of a new type of insulator for telephone line wires by which the usual tie-wire was dispensed with. In the present issue of December 9th a patent granted to Mr. Morton Harloe, of Hawley, Pa., describes another such insulator. In this insulator the usual petticoat, threaded hole, and tie-wire groove are provided, but in addition three lugs project from the upper part of the insulator. Two of these lugs, shown at 4 and 5 respectively in Fig. 1, arise from the same side of the insulator and incline to the right. The third lug shown at 6 arises from the opposite side of the insulator and is so inclined as to overlap and pass between the points of the lugs 4 and 5. The manner of using the insulator is self-evident, the aperture 7 being the resting place of the line wire. From the figure it will be noticed that the lug 5 is considerably lower than lugs 4 and 6, which feature is one of the chief novelties of the invention, facilitating to a great extent the insertion of the wire.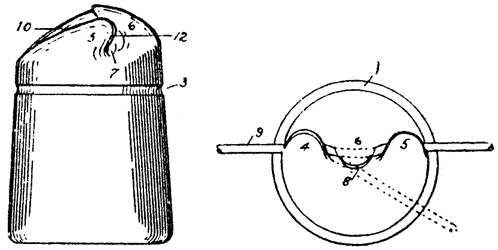 Fig. 1. — Harloe Insulator.
·
·