---
High-Potential Insulators.
With the necessity for increasing the distance of transmission in order that the power of water falls may be utilized at points far removed from the prime base of power supply, the question of insulation becomes of the most serious importance. The installation projected by the Guanajuato Power and Electric Company, and also by the Washington Water, Light and Power Company, of Spokane, Wash., requires an insulator of a capacity that was considered only a short time ago beyond the possibility of handling.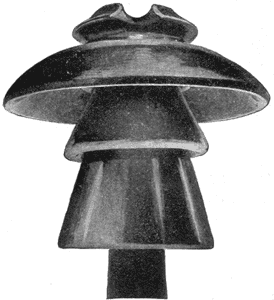 Fig. 1. — High-Potential Insulator.
In Fig. 1 is shown the type of porcelain insulator which will be used by the two above-named companies. This insulator is one of the highest voltage insulators in the world, and has a rated capacity of 60,000 to 80,000 volts, being tested at 125,000 volts. Weight, 15 pounds; diameter, 14 inches; height, 13 inches.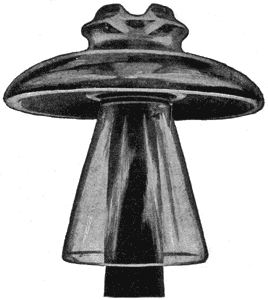 Fig. 2. — High-Potential Insulator.
Fig. 2 is an all-glass, high-voltage insulator, furnished where a low-price, high-voltage insulator is desired. Tested at 120,000 volts; weight, 12 pounds; diameter, 11 inches; height, 11 inches.
These insulators are manufactured by the Locke Insulator Manufacturing Company, Victor, N. Y.