---
Locke High-Potential Insulators.
---
In no way is the progress of high voltage more interestingly illustrated than in the evolution of line insulators. At first it was attempted to meet the new requirements by merely increasing the size of the ordinary insulator, but experience soon demonstrated the futility of such a course. At present the design of high-voltage line material is an art by itself, and each new requirement brings forth designs specifically suited for all of the conditions.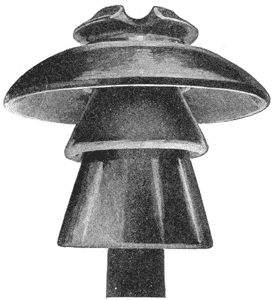 Fig. 1 — 80,000-Volt Insulator.
Among the latest types of such insulators we illustrate two manufactured by the Locke Insulator Manufacturing Company, of Victor, N. Y., made for the 105-mile transmission line of the Mexican Guanajuato Power and Electric Company, and the line of the Spokane (Wash.) transmission plant. In the former case the voltage is 60,000, a 19-strand copper cable equivalent to a No. 1 solid wire being employed.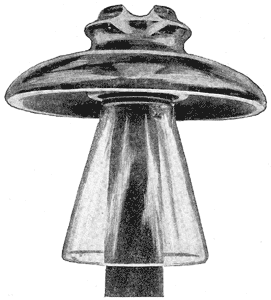 Fig. 2 — Glass Insulator.
The insulator of Fig. 1 is tested for 125,000 volts and is sufficient for a working pressure of 80,000 volts. It is 14 inches in diameter, 13 inches high and weighs 15 pounds. The insulator of Fig. 2 is a cheaper form of all-glass, but will withstand a test of 120,000 volts. Its diameter and height are 11 inches, the weight being 12 pounds.