---
BELIEF THAT SHE WAS MISFORTUNE'S
HARBINGER LEADS TO GIRL-WIFE'S DEATH
---
Depondency, Brought On by Strange Imagination That Her
Presence Boded Evil to the Man She Loved, Said to Be
One of the Causes of the Self-Murder of Mrs. Hemingray.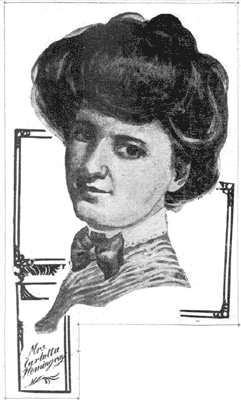 PRETTY YOUNG WIFE OF WELL KNOWN TURFMAN WHO COMMITTED
SUICIDE BY SHOOTING HERSELF WHILE LABORING UNDER
THE BELIEF THAT HER PRESENCE ON EARTH BROUGHT HER HUSBAND
ILL LUCK
THE tragic suicide of Mrs. Robert Hemingray, the pretty girl-bride of the well-known horseman was the subject of much conversation yesterday. She was so young and beautiful of face and form that her sad story excited unusual sympathy. Besides being despondent over the belief that she had lost her husband's love, she brooded over the idea that she had brought him ill luck. A few days previous to her death she informed Mrs. J. E. Locke, the wife of the proprietor of the Knickerbocker apartment house, that she knew that she was her husband's "hoodoo." 'She was so sensitive that this thought tortured her. Mrs. Locke tried to laugh her out of her queer superstition, but without avail. She was certain that her husband would never be lucky with her. She recounted that how only a few days subsequent to their marriage Hemingray had lost a gold match box set with diamonds and one of his horses had been so badly injured that it had to be killed. These mishaps, she believed, she had brought upon her husband, and the thought that she was bringing her husband bad luck added to the despondency that resulted in her suicide.
A dispatch from the dead girl's mother in Cincinnati casts some doubt on Hemingray's marriage with Carlotta Campiglio, as Mrs. Hemingray was known in her home city. The mother stated that she is not certain that the marriage ever took place. Robert Hemingray, however, still emphatically, asserts that they were married. He says that the wedding took place in Chicago about three and a half months ago. He said, however, that does not remember; the name of the Justice of the Peace, who performed the ceremony. His brother corroborates his statement that the marriage really, took place.
In accordance with instructions from the husband the body of the dead girl was taken to an O'Farrell-street undertaking parlors yesterday. It will be embalmed and sent back to her mother in Cincinnati for burial.
---
CINCINNATI, Nov. 30. — Mrs. Robert Hemingray, who committed suicide in San Francisco last night, was, before her marriage to Hemingray, Miss Carlo Campiglio of this city. Until a few months ago she lived with her parents, Professor and Mrs. Campiglio, at 636 West Fourth street. Last night when Mrs. Campiglio was informed of the affair she, became hysterical and it was necessary to summon a physician to attend her.
The young woman who ended her life was but 18 years of age, and while the dispatches from San Francisco say she was supposed to be the wife of a Robert Hemingray, the parents admitted last night that they did not know whether she was married or not. They said she left her home about five months ago, presumably for San, Francisco, as letters had been received from her written in the city. The father .of the young woman said he did not know Robert Hemingray; that she was supposed to be visiting with relatives in San Francisco.
She will be remembered, as one of the most strikingly beautiful, girls that ever walked, the streets of Cincinnati. Her father, has been organist of St. Paul's Church, this city, a number of years and conducted a music store across the river in Covington, Ky.
Carlo Campiglio, though still a slip of a girl, attracted attentions and became known by sight to almost every one in the city because of her remarkable beauty and figure. She had admirers by the score among the young men of the city. As she bloomed into young womanhood her beauty of face and figure increased, and wherever she went the girl attracted attention.
Stories of escapades and infatuation and conduct of the fastest were told about her. Suddenly she dropped from public view here. To-day's publication of her suicide was the talk of the large number of her old acquaintances.
---