---
Triple Petticoat Insulator and Pin.
---
A high grade of insulators and pins for line construction are manufactured by Fred M. Locke & Co., of Victor, N. Y. The accompanying cut shows a form of triple petticoat insulator and a patented pin. The pin is of steel, made with a strong base, which prevents the pin breaking off close to the cross arm. The seven-sixteenth pins are said to stand a strain of 1,800 pounds without bending. The pin is easily attached to the cross arm, and when firmly attached will strengthen the arm, and prevent large checks at the end. All tendency to split the arm as in the old style wooden pins is avoided.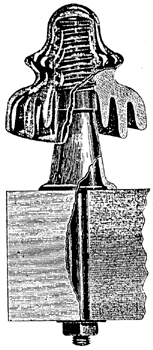 Triple Petticoat Insulator and Pin.
The pin holds the insulator securely; the end being large and threads broad, no trouble is met with in putting the insulator on. The insulator as shown in the cut is designed for power transmission lines or high potential circuits, and is said to afford a perfect insulation for currents up to 10,000 volts. The triple petticoat affords a special protection against gathering water during storms or the formation of ice in cold weather. It gives satisfaction on all lines, and although designed for the high potential circuits the extra protection afforded any line should cause its use. The above firm makes a specialty of line material, and is designing a line of goods to meet the demands for material for high potential circuits, arising through the construction of many electric power plants.