---
TRADE NOTES
& NOVELTIES
---
·
·
NEW LOCKE INSULATORS FOR HIGH VOLTAGES.
WE illustrate herewith a new insulator which has just been brought out by Fred. M. Locke, of Victor, N. Y. It is made of porcelain with a separate center insulating attachment, which may be made of either glass or porcelain. Its construction is mechanically and electrically strong, rendering it very suitable for carrying high potential currents. It has shown remarkably good results in transmitting large currents at a pressure of 15,000 volts over long lines. At a recent test with these insulators on Mr. Locke's steel pins, they carried 70,000 volts for four hours, without heating, arcing or breaking down.
These insulators present over twelve inches of surface between the wire contact and the supporting pin; about ten inches of this surface being on the under side of the insulators out of reach of direct rainfall. The faces of the bottom of the insulators are perpendicular and therefore do not afford any lodgement for foreign matter. Locke's patent steel insulating pin, the top of which is made of locust wood boiled in paraffine, is designed to be used with these insulators.
The adoption of this interesting combination of glass and porcelain will be closely watched. Mr. Locke states as the result of his study and tests that this union offers a wonderfully high resistance and results in a maximum of insulation with a minimum of puncture.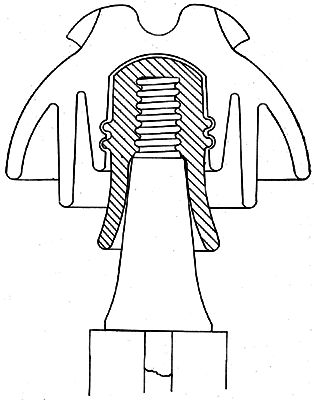 New Locke Insulator for High Voltages.
·
·