---
The "Philadelphia" Insulator and Tie.
In the accompanying illustration is shown a novel method of tying line wires, made by the Philadelphia Insulator Company, of Philadelphia, Pa. The tie, in its operation, seems to be similar to the stopper device ordinarily used on beer bottles. The tie is made instantly, by the snap of the lever, or is unmade in the same manner. A number of ties on a line can be simultaneously made. The tie adapts itself to the position of the line wire by means of the movable band on the insulator being turned to any desired position to conform with the line wire.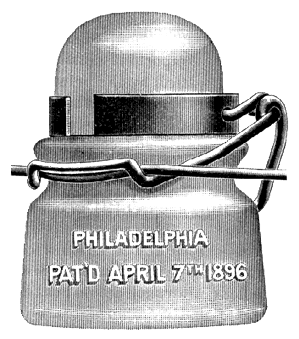 The Philadelphia Insulator and Tie.
In new work it is the practice to have gangs of as many as five men on the poles, and when ready to make their ties, they tie in succession, the second man awaiting word from the first before he makes his tie, and so to the fifth, or last. It will take an expert lineman two minutes to make a good tie, thus requiring an average of 10 minutes for each tie made. With the "Philadelphia" the tie is made so readily as to admit of the five ties practically being made simultaneously. This means a saving of time of practically 50 minutes for the five ties.
In repair work, where the former tie must be removed, it requires about two minutes to remove the old tie, and at least as much more time to make the new one. The old tie is of no further use, and if of copper, has cost at least one cent. A new copper tie will cost as much more, or, in all, two cents for ties to replace one removed. It is claimed that with the device illustrated the tie can be made or unmade any number of times without impairment. Practically no time is required in making or unmaking them.