---
The Thomas High-Tension Insulator.
---
We present herewith an illustration of one of the high-tension insulators made by the R. Thomas & Sons Co., of East Liverpool, O., and especially adapted for high-voltage power transmission. These insulators are made by what is known as the "glaze-filling" process which has been patented by the maker, who has given the subject of insulation of this character very careful study. During the past five years the company has conducted such tests as warrant it in affirming that insulators constructed under this process are sure to be thoroughly vitrified, and being made in separate parts of a uniform thickness, each part being thoroughly glazed and extra layers of glaze being used in firing the parts together, an insulator is produced which is considered practically non-puncturable.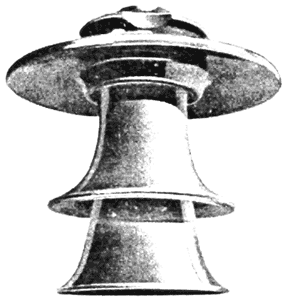 R. Thomas & Sons High Tension Insulator.
The insulator here shown is made in two sizes, designated as No. 12 "C-T" and No. 14 "C-T", and is either white or chocolate color, as preferred. The only difference is in the size, No. 12 "C-T" being 2-1/4 in. smaller in diameter than No. 14 "C-T", which is 14-1/4 in. across. The smaller insulator weighs 20 lb. and the larger,