---
RECENT PROGRESS IN HIGH-TENSION INSULATORS.
---
A type of high-tension insulators coming into extensive use on a number of transmission lines is shown in the accompanying cut. It is the product of the Lima Insulator Company, of Lima, N. Y., which has appointed the W. R. Garton Company, of Chicago, to act as its exclusive general Western agent. The Lima Company is making a specialty of the highest grade of high-tension porcelain insulators, and is planning to adopt such methods that its insulators will give the most satisfactory results. The company fully realizes the requirements in this class of insulators, and that unless every detail is given the necessary attention trouble may result. It is therefore proposed to place on the market insulators that will establish for themselves readily a reputation and place this produce at the top rung of the ladder. The W. R. Garton Company has also spent several years giving close attention to the requirements of high-tension work and is prepared to serve the trade intelligently and faithfully in this particular. The company's engineering knowledge and railway experience insures good judgement in this direction. The Lima Insulator Company will gradually increase its facilities until it is able to meet the demand in every particular, and will turn out a gas-fired, white and brown porcelain which will be pleasing to the eye, attractive in form and satisfactory in service. The Garton Company now records among its patrons for high-tension insulators large numbers of some of the most prominent properties in the country. It, therefore, anticipates for the new year a very largely increased trade.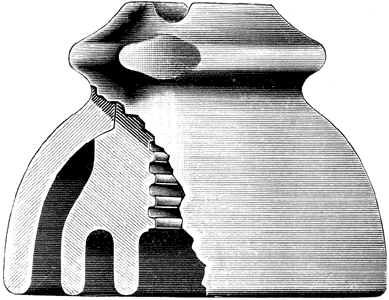 A New Type of Gas-Fired High-Tension Insulator.