---
Telephone Transposition Insulator for High-Potential Power Lines.
---
When telephone wire are placed upon the same poles with high-potential power lines, it is desirable that a high degree of insulation be used with the telephone wires in order to minimize the liability of current jumping from the pole or tower on to the telephone wires and thereby working destruction sometimes of both life and property. The accompanying illustration shows the No. 8A transposition insulator of the Locke Insulator Manufacturing Company, Victor, N. Y., which has been designed for the support of telephone wires on the same poles which carry the high-voltage wires. A prominent feature of the insulator is the great arcing distance between the telephone wires and the support. It will be noted further that there has been provided between the two telephone wires a small petticoat which affords ample insulation between them. This insulator is made in one piece, and is characterized by great mechanical and electrical strength.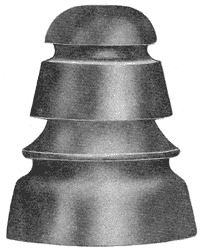 Telephone Transposition Insulator.