---
PORCELAIN INSULATORS.
---
As a demonstration of the remarkable developments which have taken place in the porcelain insulator industry, the insulator exhibit of The Ohio Brass Company, of Mansfield, Ohio, is well worthy of inspection. This display, which is in charge of C. E. Delafield, sales agent of the high-tension division of the company, is very comprehensive, including samples of porcelain insulators for all classes and conditions of service, from those adapted to telephone work up to and including insulators designed for 75,000-volt transmissions. The product of this company is of the highest order, and furnishes an admirable example of the perfection which has been reached by the modern pottery in this line of work. Samples selected for the exhibit were carefully chosen to show the different designs which are adaptable to various conditions, and include single, two, three and four-piece insulators. The accompanying illustration shows one of the popular forms for high-tension transmission work. It is a four-piece insulator of a rated capacity of 45,000 volts, the members being joined by cement.
The Ohio Brass Company controls the entire output of a large and modern pottery, and is prepared to furnish anything in the insulator line for all practicable working voltages and for any climatic conditions. A handsome and instructive high-tension insulator catalogue is being distributed at the exhibit.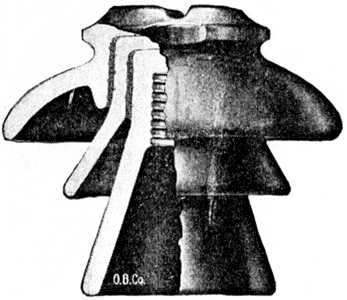 Three-Piece Cemented Insulator.