---
Brookfield Glass Insulators.
The Brookfield Glass Company, 2 Rector Street, New York is one of the pioneer and one of the most prominent manufacturers of glass insulators. This company's product has been standard for forty years, and with the Barclay improved insulator a fine range of selection is afforded, meeting every exigency of line construction. The accompanying illustrations show four types of Brookfield insulators. Fig. 1 is a "Combination Safety" insulator, which is designed to prevent the dropping of the line wire to the cross-arm if the tie-wire breaks and to eliminate the necessity of tying to every insulator. Fig. 2 is the "Western Union" double-petticoat pattern. Fig. 3 is the pony pattern, and Fig. 4 the deep-groove, double-petticoat pattern.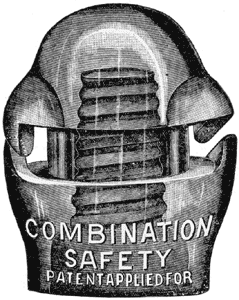 Fig. 1
With the Barclay improved insulator the spiral groove on the outer surface is so threaded that when unscrewed from its pin the tie holding the wire is also unscrewed or removed from the insulator. The reverse operation screws the insulator on the pin, and at the same time puts the tie wire back in its original position on the insulator. The object of this insulator is to save labor and expense in renewing glass when broken or otherwise defective, and in the transfer of wires from one position on a pole to another, all of which is accomplished without untying or retying the wire.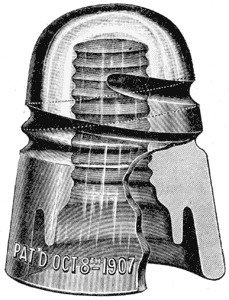 Fig. 2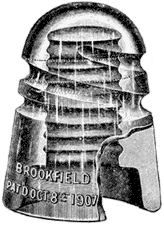 Fig. 3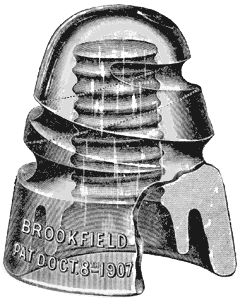 Fig. 4