---
New Type of Locke High-Tension Insulator
---
Fred. M. Locke, Victor, N. Y., announces that he has succeeded in making a new material for insulators which he calls "Transparent Porcelain," and which possesses a number of remarkable qualities. The base is aluminum silicate, and the material can be melted and cast in the same manner as glass. Two of its most remarkable features are the temperature changes it will withstand, and its high specific inductive capacity. These, together with great mechanical strength and high resistivity, ideally fit the material for all classes of insulation.
The insulation shown in the accompanying illustration has been submitted to the following tests: Dry arcing at over 105,000 volts per section; wet arcing at over 55,000 volts per section; breaking test, 10,700 lb.; sudden change of temperature from 40 deg. to 200 deg. Fahr. without cracking. Its specific inductive capacity was found to be 10 as compared with air as unity, the corresponding figures for glass and porcelain being 2 and 4 respectively.
The bushing shown in the illustration was tested to 100,000 volts, its flash-over point, with scarcely any evidences of static effect. It is stated that a large number of the new insulators have been tested to 100,000 volts for several hours without any failures.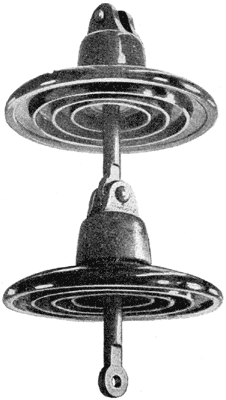 Fig. 1. — High-Tension Insulator.

Fig. 2. — Pin.