---
A New Insulator for Overhead Lines.
A British inventor, W. Copeland, has designed a new form of insulator for overhead lines, which he has described in a recent issue of our English contemporary Electrical Engineering, as follows:
This insulator can be used for all purposes on an installation, either on a straight line, curve, or terminal pole. It can be used for any class of wire — aluminum, bare copper, or insulated — and for telephone, telegraph, electric-light, and power, high or low-tension transmission lines. A special feature about the insulator is that the outside cover can be made of any metal, pot, or porcelain, and when aluminum wires are used the cover of the insulator can be made of aluminum. Binding wires are dispensed with, and the insulator is practically unbreakable.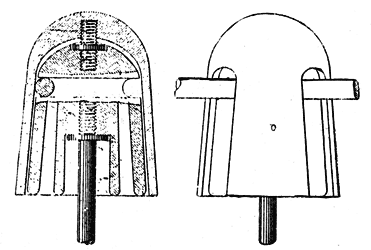 Fig. 1. High-Voltage Insulator.
Sketches of two forms of the insulator are given. That shown in Fig. 1 is recommended for high-voltage work, and that shown in Fig. 2 for low voltages. The insulator is carried on an ordinary bolt, which has a square collar in order to hold or turn it by means of a key or otherwise. The body is an ordinary porcelain insulator with the usual studs, and has a horizontal groove round it which contains the wire, the latter projecting somewhat from the groove. On the top of the insulator is a screwed socket or stud bolt. This socket is entirely separated from the socket for holding the bolt by a sufficient thickness of porcelain. The stud bolt has an ordinary right-handed screw on each side of a central collar, and there is a cap, which can be made of porcelain or metal. This cap and insulator are preferably somewhat conical in shape, but the cap is rounded at the top.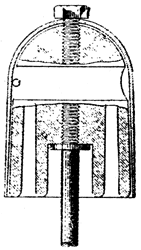 Fig. 2. Low-Voltage Insulator.
The mode of erection is as follows: The bolt being screwed into the insulator in the usual manner, the stud being also screwed into the insulator, the bolt is put on its supports, but not tightened up. The line wire is placed in the groove, and the cap dropped over, resting on the stud. The cap is now held by the hand and guided centrally, and the bolt turned round until the upper screw of the stud screws tighten in the cap and holds the latter against the wire. The wire is now firmly fixed. This gives no trouble as regards binders when lines are far away, and when unbreakable covers are used it is another very valuable consideration for public roads.