---
PROTECTING RINGS FOR TRANSMISSION-LINE INSULATORS.
---
The Locke Manufacturing Company, Victor, N. Y., is now manufacturing and marketing the Nicholson arcing rings for transmission lines which were first used on the lines of the Niagara, Lockport & Ontario Power Company, and formed the subject of a paper read by the inventor at the Charlotte, N. C., meeting of the American Institute of Electrical Engineers, March, 1910, as mentioned in our issue dated April 7, 1910.
A stroke of lightning within, say, a quarter of a mile or less of a transmission line frequently induces surges which cause an insulator to flash over, and the power arc that follows, being concentrated under the shells of the insulator in grounding to the pin, mechanically ruptures the insulator owing to the concentrated heat of the arc; and after the shells are thus cracked the current follows in full force, creating a destructive effect.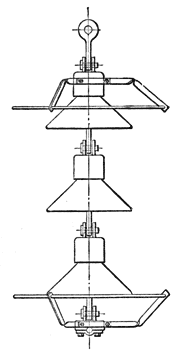 Nicholson Arcing Ring.
It was upon this analysis that the arcing ring was based. The device allows the flashover to take place between an upper ring, which is connected to the line cable, and a lower ring, which is grounded to the cross-arm or pin, and is so removed from the insulator as to prevent the heating above referred to. After the circuit-breakers have gone out if has been demonstrated that the line thus protected with the Nicholson rings can be cut in again, the insulators being intact. This result is, of course, gratifying as compared with the old condition of a line grounded through ruptured insulators, in which case it was necessary to send out linemen to make repairs before operation could be resumed. It will be apparent that this security is especially valuable in the case where an important motor load is being carried on a single circuit and cannot be transferred to a duplicate line, or in the case of isolated, inaccessible portions of a line.
Very many ideas have been held regarding the service to be performed by high-voltage insulators. Some engineers expect them to remain immune from damage by line discharges, depending for line protection upon lightning arresters and ground wires; others have have advocated making the insulator rugged enough to remain intact following a flashover, such flashover, moreover, preventing destruction in the power house. The Nicholson ring is, however, based on the growing idea that insulators are special pieces of apparatus that are in a sense frail and should be protected against destructive discharges as in the case of any other piece of apparatus.