---
The Findlay Interchangeable Self-Centering Split Knob.
The Findlay Electric Porcelain Company, Findlay, O., has placed on the market an interchangeable porcelain knob, a good idea of the application of which may be had from the accompanying illustrations. One part is exactly like the next, therefore each part is interchangeable. There is no fussing about with caps and matching up, and consequently there is an absolute elimination of waste material. These knobs are self-centering, and the pieces may be used for straight wiring jobs or crossovers. The grooves are deep, firmly holding the wire, and they will not break even when installed with wire nails.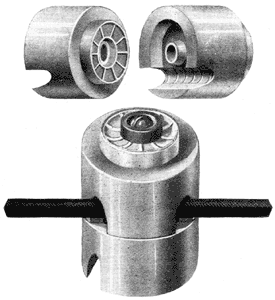 Findlay Self-Centering Split Knob.