---
New Patented Third-Rail Insulator.
The third-rail insulator illustrated herewith is known as the Ohio Brass Company's type K. It is held in position by means of a bar-iron forging lagged to the tie. Across the bottom of the insulator are slots, recesses at each end to provide clearance for lag-screw heads. The forging may be exteded to provide a support for a protection board, if so desired. A large number of these insulators have proved highly satisfactory on an important eastern road.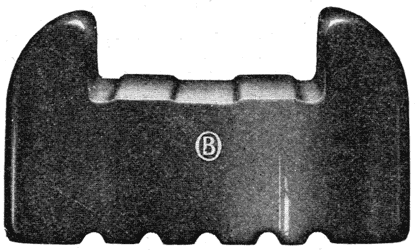 New Third-Rail Insulator.

Cross-Section and End Elevation of Third-Rail Insulator.
This insulator is covered by the Roger patent No. 1,090,234, issued March 17, 1914, half interest of which has been assigned to Nathan Shute. The Ohio Brass Company, Mansfield, O., has entered into a contract giving it exclusive manufacturing and sales rights for the general market upon third-rail insulators manufactured under this patent.
[not finished]