---
Black-Glazed Porcelain.
In response to a demand for a porcelain with a black glaze, there has been produced by the Cook Pottery Company, Trenton, N. J., a black glaze which permits the production of porcelain articles in exact imitation of those of hard rubber. The accompanying illustration shows a telephone mouthpiece made of this new material, in which all but the threaded end is given the black glaze. This new material has, of course, all the well known insulating properties of porcelain, is impervious to moisture and will withstand extremes of heat, particularly high temperatures, very much better than hard rubber. It is very easily kept clean and is entirely non-absorbent. Another important advantage it possesses over hard rubber is that it can be produced at a much lower cost. It is believed this new material will find many uses in the electrical arts where its properties will be appreciated.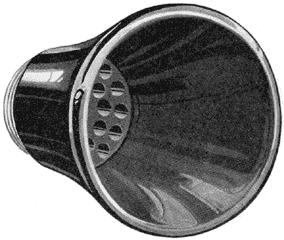 Mouthpiece Made of Black-Glazed Porcelain.