---
Col. Philip W. McAbee
Dies Suddenly in South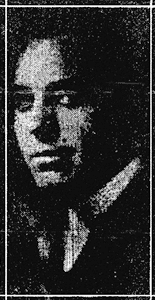 COL. PHILIP W. McABEE
Col. Philip W. McAbee, 68, prominent retired Muncie manufacturer, died suddenly at 10:20 o'clock last night at the Andrew Johnson Hotel in Knoxville, Tenn. His death was attributed to a heart attack.
The body will be returned to the Meeks mortuary where funeral arrangements will be completed.
Colonel McAbee was on his way to his winter home in Melbourne, Fla., when he was stricken. He had left Muncie at 8:30 o'clock yesterday morning with Sgt. Ted Bebout of the Muncie police department, who was driving for him.
Fatal Seizure at Dinner
Sergeant Bebout said last night that Colonel McAbee was seized with a coughing spell shortly after 9 o'clock in the Hotel Johnson coffee shop as the two were having a late dinner. The colonel collapsed and died an hour later. He had been suffering from a heart condition and asthma for a number of years.
Colonel McAbee's wife, the former Carol [sic] Carroll Hemingray, died February 26, 1947, at Cocoa, Fla., where she and the colonel were spending the winter.
He had resided at the Delaware Hotel here since selling his home at the northeast corner of Hackley and Washington streets last spring.
The son of Newton S. and Mary Green McAbee, Colonel McAbee was born September 22, 1880, at Cleveland, O. He was educated in the Cleveland public schools and at Phillips Academy, Andover, Massachusetts.
After serving as an accountant in Cleveland in the general offices of the East Ohio Gas Company, he came to Muncie in 1904 and became secretary-treasurer of the Indiana Pipe Company. In 1908 he returned to Cleveland to become associated with the W. B. McAllister Company, general contractors. He remained with that company for nine years, until the United States entered World War I.
He enlisted in 1917, and after attending an officers training camp, he was commissioned captain of infantry. He later became a major, and in May, 1918, he sailed for France, where he was placed in command of the classification camp at Le Mans. He was promoted to lieutenant-colonel in September, 1918, and returned to America the following February. In 1920 he was commissioned a colonel in the Officers Reserve Corps.
Colonel McAbee returned to Muncie, and in June, 1919, was named first vice-president of the Hemingray Glass Company here. He Became president in 1920.
In June, 1933, the Hemingray concern was consolidated with the Owens-Illinois Glass Company, and until his retirement in 1933, Colonel McAbee was in general charge of the Muncie insulator division of Owens-Illinois.
Former Works Board Head
Since his retirement, Colonel McAbee has primarily devoted himself civic affairs. He served as president of the Muncie Board of Works and Public Safety under the John C. Quick administration, and he was one of the organizers and directors of the local community fund.
He was a member of the Delaware Post 19, American Legion, and was a former member and past president of the Muncie Rotary Club. An early member of the Whip and Spur Riding Club, he often served as grand marshall at civic parades in the city. He also was a member of the Delaware Country Club.
---