---
Some New Specialties.
Electric alarm clocks have now become quite as common as the ordinary mechanical alarm clock was formerly. Owing to the fact, however, that the cheap popular clock of the so-called "nutmeg" pattern is liable to serious derangement by any attempt to provide for electrical contacts in its works, attempts have been made to produce a device that could be used in connection with any of the various styles of circular alarm clocks now on the market without any attempt to make electrical connections thereon, and this seems to have been accomplished by an inventor who has put his work into the hands of The E. S. Greeley & Company, 5 and 7 Dey Street, New York, who are now manufacturing it.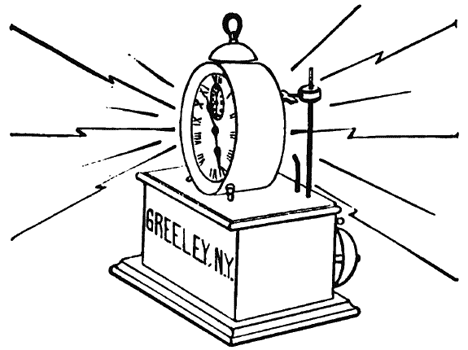 Electric Clock Attachment.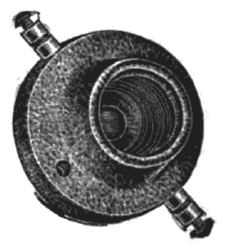 Insulated Wall Socket.
The device consists simply of an ornamental battery box provided with an electric bell and a time ball. The time ball is hung upon the alarm key of the clock, the turning of which upon release of the alarm drops the ball and completes the circuit, the bell continuing to ring until the ball is raised. The accompanying cut fairly illustrates the attachment.
The waterproof lamp socket shown in the accompanying illustration has been recently put on the market by the Fiberite Company, of Mechanicsville, N. J., for whom The E. S. Greeley & Company is New York agent. The insulating material is the well-known Medbery composition and is pressed in shape around the metal parts under enormous pressure, so that moisture cannot penetrate between the binding posts and the insulating body. For outdoor work such as illuminated signs, storefront decoration, etc., these sockets are especially suitable, and they are also useful for work in breweries and other damp interiors. The sockets are furnished to fit any of tbe standard lamp bases.