---
THE "P. & S." SINGLE CLEAT
Prominent among the latest novelties introduced by Messrs. Pass & Seymour, of Syracuse, N. Y., is the adjustable single cleat shown in the accompanying illustration, and designed for use where wires are to be separated more than 2-1/2 inches. As will be seen, the wire is held firmly without danger of abrading the insulation, and produces no lateral strain upon the screw, as all the pressure is on the inclined surface of the insulator. Small projections on the under side prevent it from turning, but, if additional security be desired, a small screw may be inserted through the hole A.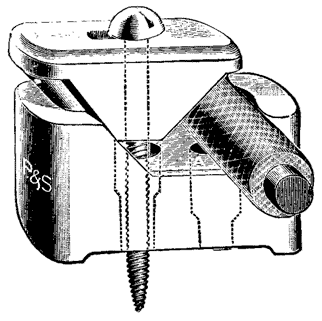 The "P. & S." Single Cleat.
This cleat, in common with the other specialties made by this company, is of their well known Syracuse china, thoroughly vitrified.